All fields and other form components have some basic properties which can be set directly from the form layout area: The common ones are the Field Title and Help Text, along with the Required star on the left and the Delete and Properties on the right.
Example of a Selected Field (Text Field)

Icon
Property
Description
Required
Sets if this component's value is required to be entered before the record can be saved. Click to enable / disable.
Copy Field
Click on this icon to create a duplicate copy of the current field. The new field will appear below the current field in the same column container.
Properties
Clicking on this displays the selected component's settings in the right-side properties panel.
Remove
This deletes the component from the form.
Field Title
This is the text label that appears above the field. It lets the user know what information should be in the field, for example 'First Name' or 'Date of purchase'.

You can edit this value directly: Just click on the text and edit it. The default title will be the name of the component (e.g. Text Field, or Date).

Field Help Text
This is help text label that appears under the field. It is used to add any information the user might need in order to enter the correct information in the field. You could put a more detailed description than the Field Title, or an example of the correct format. (e.g. "Enter the employee ID in the following format A1234.")

You can edit this value directly: Just click on the text and edit it. The default tooltip text is "Enter Tooltip Text". If you leave the default text of "Enter Tooltip Text", it will not display when the form is used.
Note:
While it is possible to remove the field title, you should not do this as it will mean the field can't be displayed in any view, and when the form is used the user will find it hard to know what the field is meant for.
Common Properties
All of a component's properties can be found by clicking on a the Properties icon and going to the Properties panel on the right side of the screen. The following common properties exist on almost all components, and are on the Basic tab in the General section:
Example of the Properties Panel (Text Field)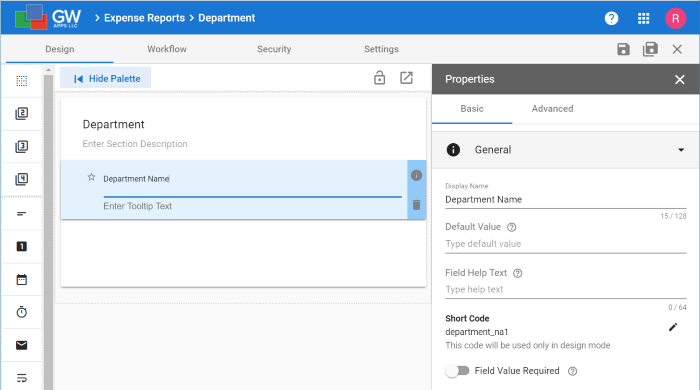 | | |
| --- | --- |
| Property | Description |
| Display Name | This name will be displayed as the field label when editing or viewing a record. |
| Default Value | The initial value placed in this field each time a new record is created using this form. (Optional) |
| Field Help Text | The text that displays under the field to help explain the purpose of the field. (Optional) |
| Field Value Required | Sets if this component's value is required to be entered before a record can be saved. |
| Message to show users when field is left empty | The message to display if the field is required and the field is left blank when a record is submitted. |
| Short Code | This is a short alias or nickname for the field. It is used when referring to the field in formulas. It can be edited by clicking on the pencil icon. |
Next Steps