Once you have the application roles, you can begin managing role members by adding users to the roles using the + Add User button we discussed in the Security: Users & Roles – Adding Users article.
There is a second way to manage the membership of a role. When you select a role in the roles list, a right-side panel opens that lets you manage the selected role:
Roles & Users Screen with Role Details Panel

Managing Role Members
The following section shows the features of the right-side panel for managing role members and permissions:
Manage Role with No User Selected
Item
Description
Search Members (A)
Clicking on the Search Members button and typing the first characters of the desired first or last name will filter the list to include only members whose name includes the typed characters.
Item
Description
Add Member (B)
Click on the Add Member button and type the first few characters of the first or last name of the desired user. Names that match the typed characters will be displayed in a drop-down. Keep typing until you can see the desired user, then select them to add them to this role.
Removing Users from the Role
Manage Role with User(s) Selected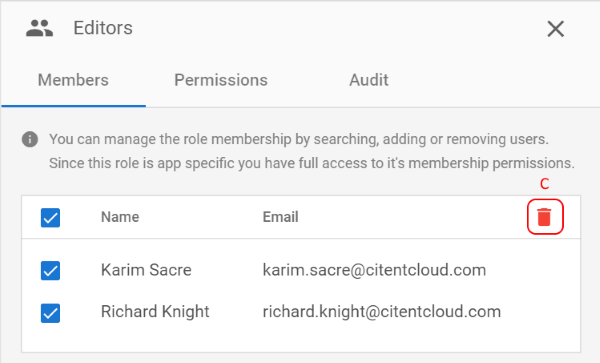 | | |
| --- | --- |
| Item | Description |
| Remove Selected User(s) from the Role (C) | With one or more users selected, clicking on the red trash can (C) will remove the user(s) from this role. |
Managing Role Permissions
This tab summarizes the permissions (capability to do something in an app) that the selected role has in all of the forms in the application. It also allows you to modify these permissions.
Manage Role Permissions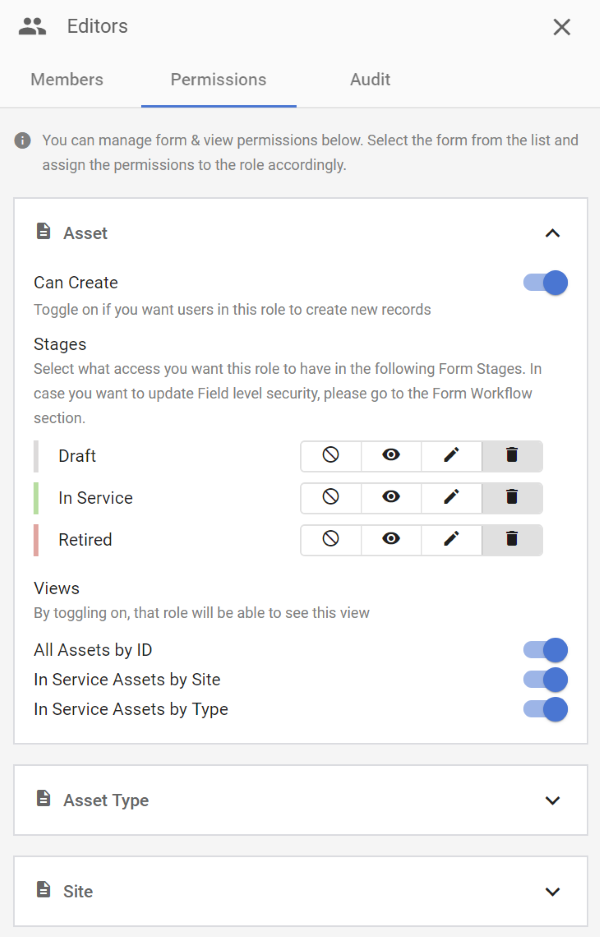 The Permissions tab shows the Forms within the current app as a set to tiles with expand (

) and collapse (

) icons. Once you have expanded an app, you will see options to set the following permissions:
| | |
| --- | --- |
| Item | Description |
| Can Create | Lets you select if members of this role can create new records with the selected form. |
| Stages | Lets you select the access level members of this role will have at each workflow stage for the selected form. |
| Views | Lets you select if members of this role can see the specified view. |
Next Steps