The 'App Creators' sections lets you designate who has permission to create apps on the platform. It's also where you designate 'Super Administrators' for the platform, i.e., those with permission to edit the platform settings, manage users, and view platform level reporting.
Adding App Creators & Super Admins
Note: Users must first be added to the platform in the 'Users' section before they can be added here
The process for adding users here is similar to the process for adding users to the platform. Begin by selecting '+Add User' on the top bar.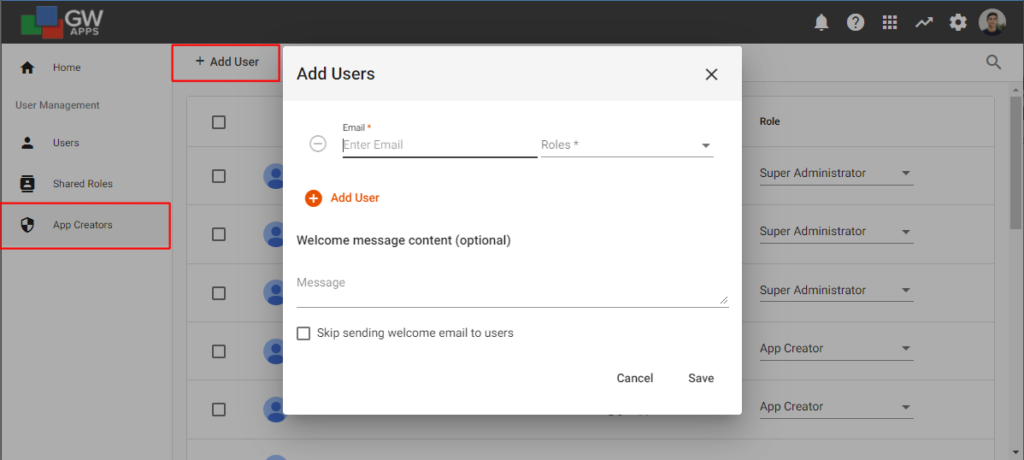 In the Email field, begin typing the name or email of a user on the platform, then select the desired user from the drop-down.
The 'Roles' drop-down list to the right of the email is where you choose if this user is an App Designer and/or Super Administrator. You can also edit this directly from the 'App Creators' list in the 'Roles' column. To do this, select the drop-down in the user's row (see below).

You may select the '+ Add User' button in the window to add additional users at the same time.
Finally, decide whether or not to send a welcome message to the users added. Click 'Save' to add them.
Removing Creators & Admins
To remove a user from the App Creator list (not from the platform) select the checkbox next to the user(s) and a 'Remove User' icon will appear in the top right corner of the screen, next to the 'Search Icon'. Click on this icon to remove the user from the 'App Creators' list.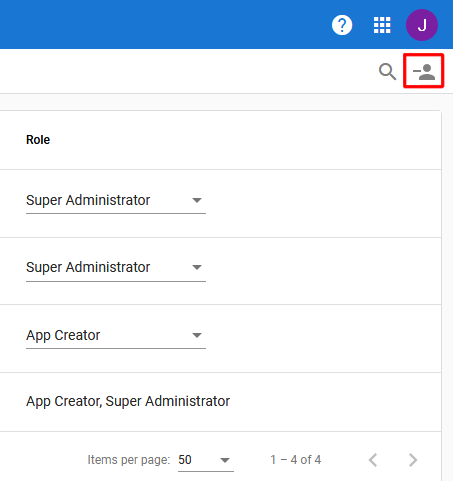 The search function simply lets you search your list for specific users.