The Reports section of the Platform Settings allows you to create and configure table views for platform level reporting. These reports can display congregate data from any applications on your platform. These views can be seen on the 'Reporting' page.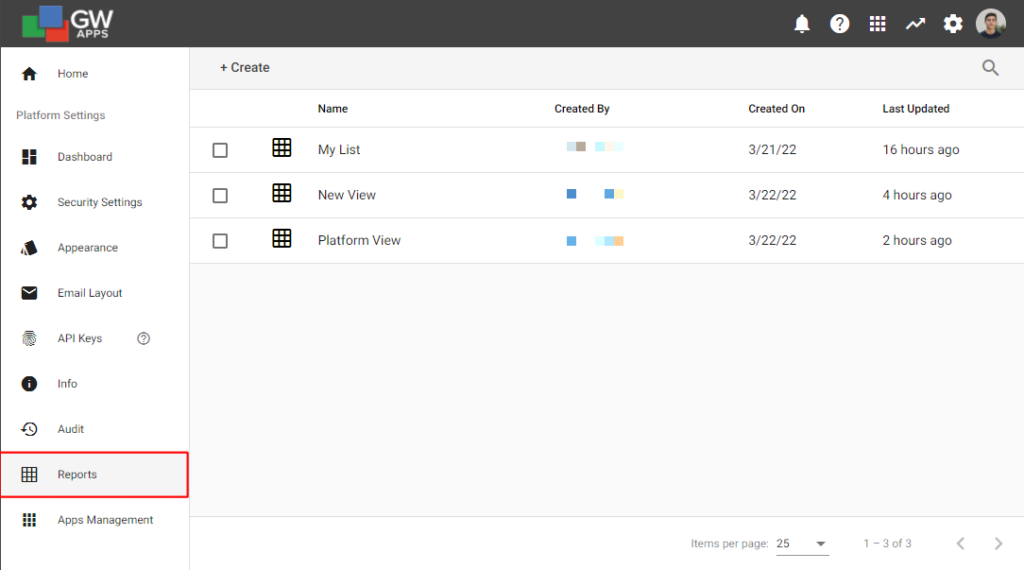 Create/Configure a Platform View
To create a new view simply select '+ Create' on the header bar, give the view a name and description, and press 'Create'.
Immediately after creating a view, a right-side panel will appear where you can configure the view properties. These options are similar to the app-level view properties, but they are slightly altered and reduced.
The right-side panel is split into 4 tabs:

Settings
The Settings tab is used to configure:
The Title/Description of the view.
The pagination settings.
The general appearance/formatting of the view.
Filters
The Filters tab is used to configure/specify which data the view will display.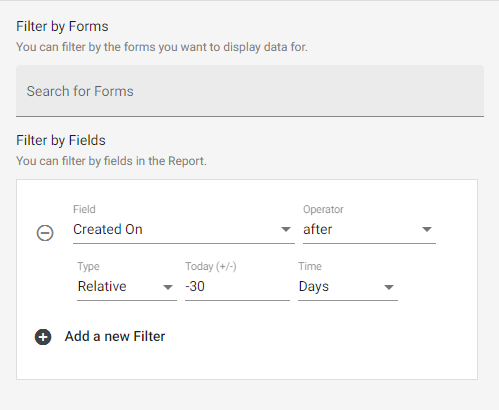 Filter by Forms will allow the view to only display data from specific forms.
Filter by Fields will allow the view to only display data that meets specific conditions. (More on Filtering can be found here.)
Columns
The Columns tab lets you manage/configure the fields that will display on your view.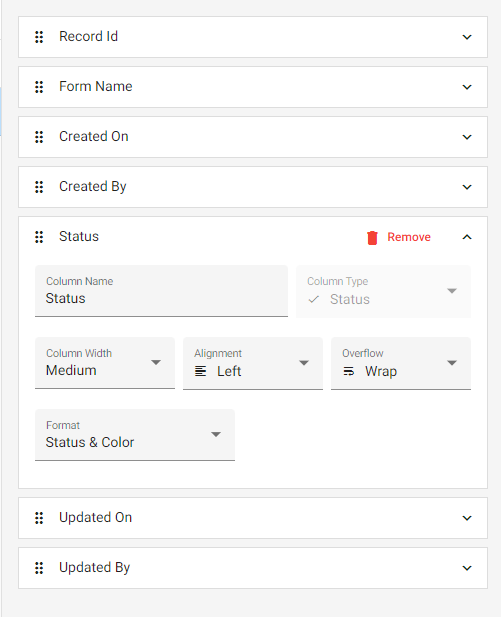 Clicking the down arrow on the right end of a column lets you further configure the column.
To remove a column, simply hover you mouse over the column and select 'Remove'.
To rearrange columns, click and drag the six-dot icon on the left end of a column.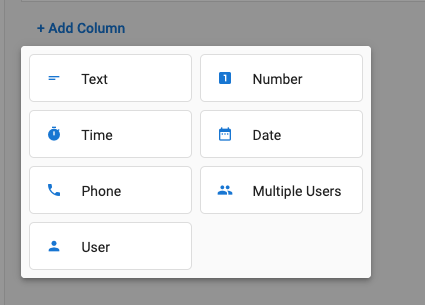 To add a column, select '+ Add Column' at the bottom of the column list and you will be prompted to choose a field type to add to the view. GW Apps will search the forms that the view is filtered by (chosen in the Filters tab) for fields that match the selected field type, and you may then assign the appropriate field(s) from those forms.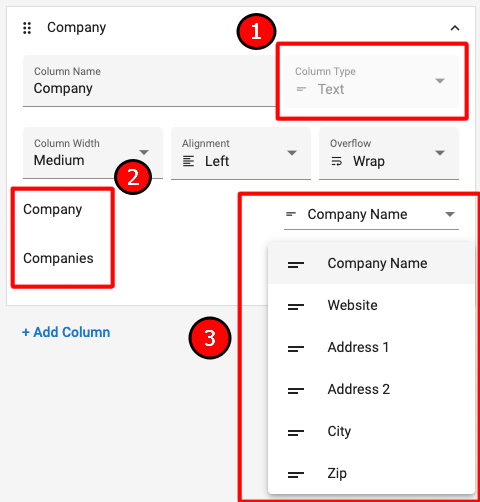 1. Selected field type.
2. Forms the view is filtered by (chosen in the Filters tab).
3. Fields on those forms that match the field type.
Security
Any user designated as a Super Admin can see all platform views. The security tab is used to give other (non-admin) users access to see the view.

To do so, simply select a Shared Role that you would like to have access to the view – all users within that Shared Role will then see the 'Reporting' icon on their platform header bar and be able to see the view. They cannot, however, make changes to the view.
Next Steps
After creating a view it will be visible on the 'Reporting' page. Learn more here: