Forms are the main building blocks of the applications you build in App Builder. Just like with paper forms in your office, App Builder forms help users enter the correct information and display it in a structured and well defined way. Users create and edit the application's data via forms.
An App Designer can access the Forms Dashboard, where they can create and edit App Builder forms, by clicking on the Forms button from the left side navigator.

Forms Dashboard
The Forms Dashboard shows all available forms for the current application, displayed as tiles. An App Designer can create and update them from here. Double clicking on a form's tile will open the form in the Form Editor.
Forms Dashboard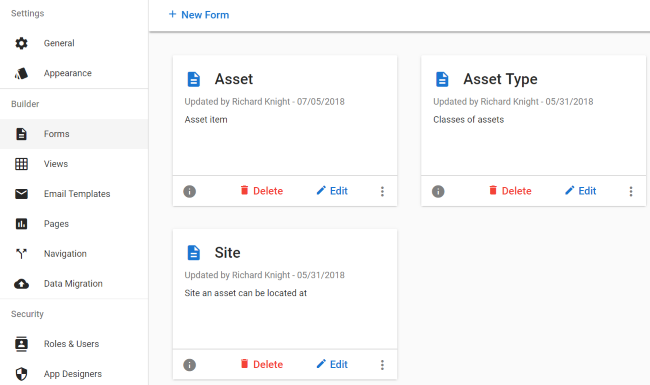 Each form tile also has the following buttons:
Item
Description
Info Panel – Displays the right side information panel, with summary information about the currently selected form.
Delete – Deletes the form from the application.
Edit – Opens the form in the Form Editor
Mini-Menu

– Clicking on this displays a set of options to allow you to open the form at a specific tab of the Form Editor. It is the same as double-clicking on the tile and then clicking on that tab in the designer – only faster. Options are:

Settings
Design
Workflow
Security
Creating a New Form
To create a new form, click on the + New Form button. You will be presented with the Create Form dialog:
Create Form Dialog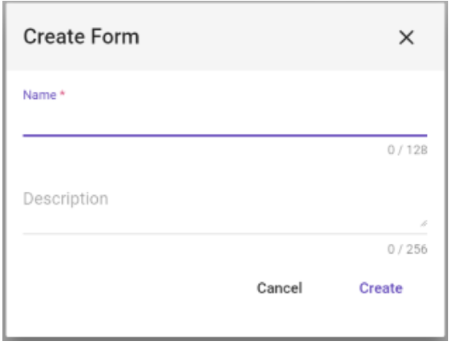 | | |
| --- | --- |
| Item | Description |
| Name | Enter the name of the new form. |
| Description | Enter a description for the form, help clarify its purpose. |
| | Click to close the dialog and cancel the new form creation. |
| | Click to close the dialog, create the new form, and be taken to the form designer with the new form loaded. |
Next Steps