This app is designed to help you plan events and assign tasks to users.
App Features
Create and manage events through completion.
Track and assign tasks for individual events.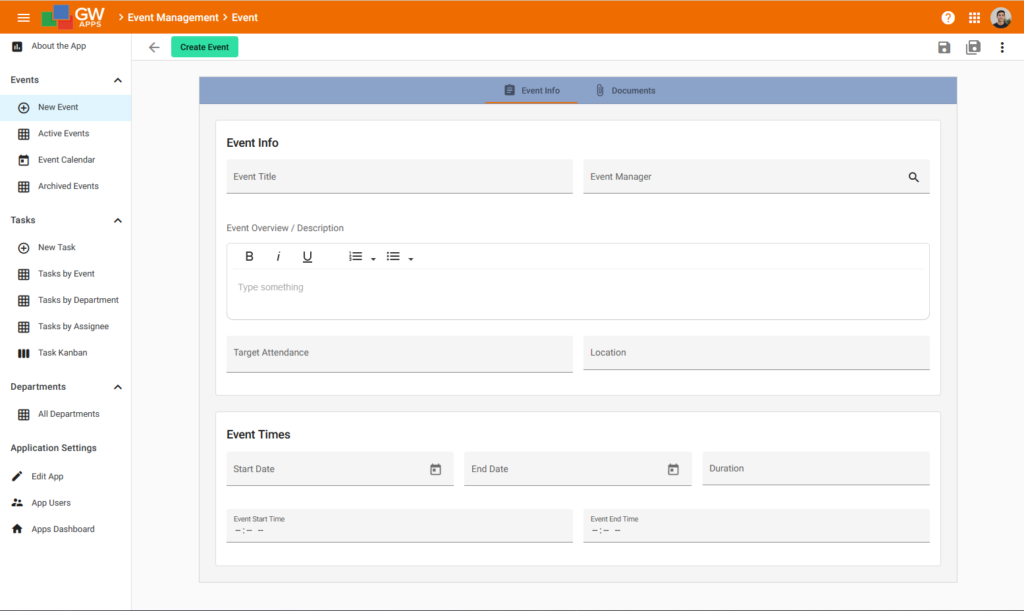 App Details
This app has two main forms:
Event Form: This form is for creating events and keeping track of their details/tasks.
Tasks Form: This form is for creating tasks for events and assigning tasks to users.
There is also an additional form for managing the Department lookup values that display on the task form's department drop-down list.
This app has two security roles:
Editor: Users in this role can create, edit, and delete Events and Tasks.
Reader: Users in this role can only read Events and Tasks.
Setting Up the Event Planning App
There are only a couple steps to get this template ready for use.
Launch the app and navigate to the 'All Departments' view on the left-side navigation. This list is a lookup reference for a drop-down list on the Task form (i.e., this list supplies the 'Department' drop-down list items on the Task form). Use it to help organize tasks by department (see 'Tasks by Department' on the left-side navigation). There are quite a few departments already in there, but go ahead and customize this list by deleting and/or adding new departments.
As mentioned already, this app only has two security roles (Editors and Readers). When adding users to the application, make sure you assign them to the appropriate roles based on the permissions you want them to have. Feel free to create new roles with more specific permissions (e.g., a role for users who can edit Tasks but not create them). For more information on how to do this, see our Creating New Roles support documentation.
Using the Event Planning App
The general process for using this template is as follows:
Start by creating a new event by selecting 'New Event' on the left side navigator.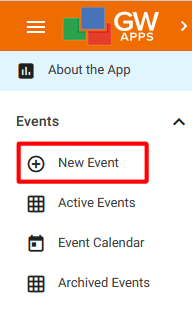 Enter the event details, and then click the 'Create Event' button on the header.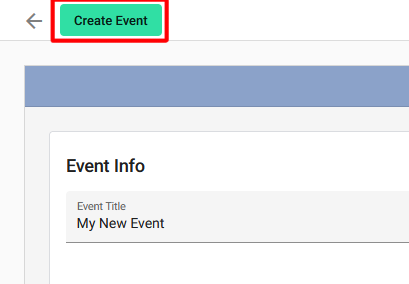 After you create your event, you can begin adding tasks for the event. Immediately after creating an event, the app is set up to redirect you to viewing the record. You can also find the record in the 'Active Events' view.
Navigate to the 'Tasks' tab on the record. The embedded views on this tab will display all tasks for the selected event.
You can add tasks directly to the event using the embedded view '

+ Add New Record

' button, and then clicking and typing directly into the fields – OR – you can add tasks using the 'New Task' form on the left side navigator.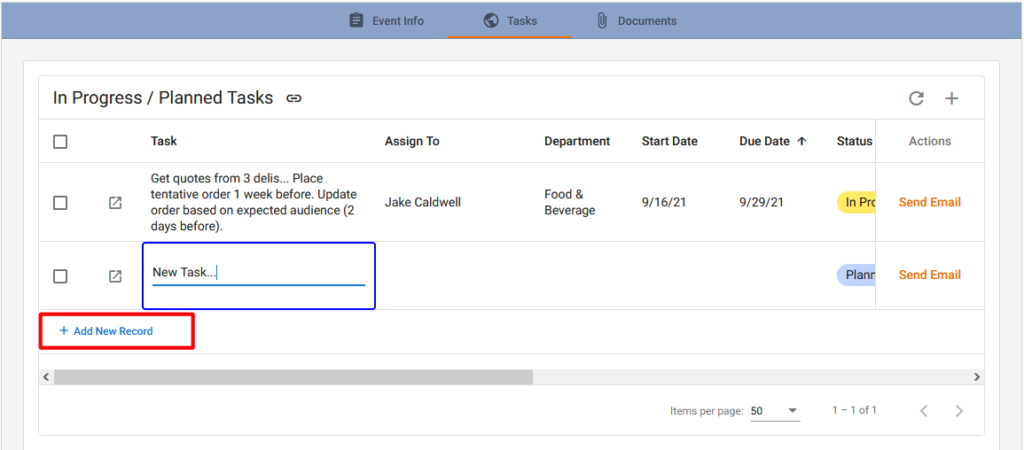 Tasks have three (3) status, which you can edit either clicking and changing the field in the embedded view, or by navigating to the Task record and changing the status there. The three status' are:

Planned

In Progress

Task Done
There is a trigger set up to change the stage of Planned or

In Progress

tasks that have past their due date to

Past Due

. Once the stage changes, the

Past Due

will display above the task record when it is viewed (but not in the embedded view).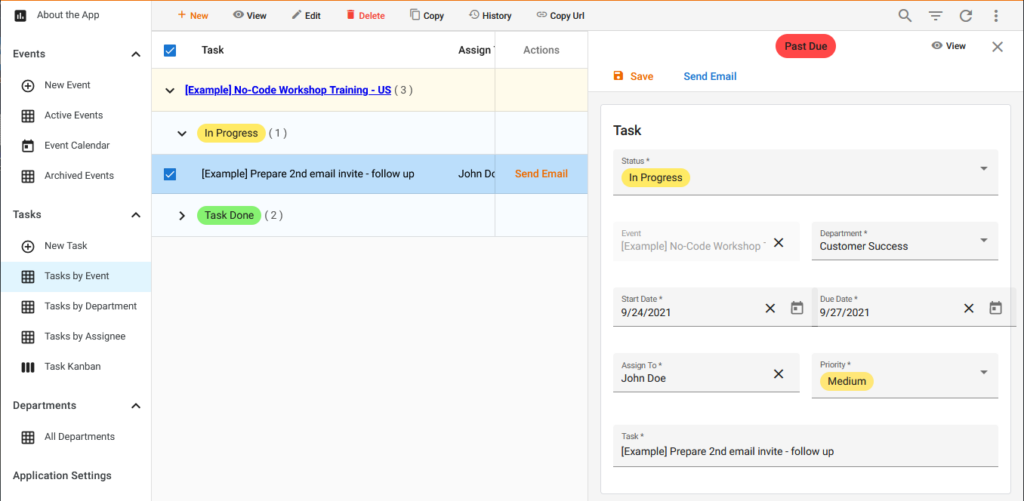 Updating the Event Planning App
Just like the rest of our templates, this app is a great starting point for creating your own custom event management app. If you have an idea for a change you'd like to make, take a look at our support pages for guidance on how to make those changes, and give it a shot. And of course, we're always available to help bring your vision to life – just send us an email to [email protected] and we'll be happy to help!