This article outlines the main features of GW Apps and how to find your way around. First there is a video that briefly covers most areas of GW Apps, and below it a quick overview in text and pictures.
Main Features Overview Video
The following video outlines the main features of App Builder, and how to find and use them:
GW Apps Layout
There is help available in the left side navigator and also in the header bar at the top of the page. The navigator help is high level, and outlines, for example, what a form or view is and what they do for the app.
Layout of a Launched App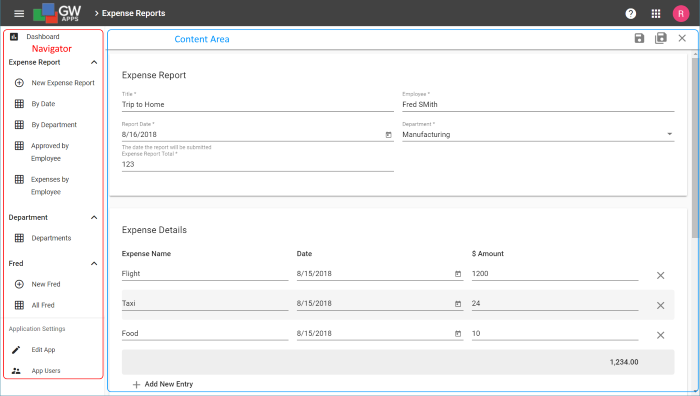 | | |
| --- | --- |
| Navigator | The navigator allows you to choose which view or page you want to look at, as well as links that will create new records. If you have App Designer permissions, you will also see the Edit App and App Users options. |
| Content Area | The Content Area is where the chosen view, page or form is displayed. In the example above, an Expense Report form is displayed showing values for a specific expense report. |
Layout of a App Being Edited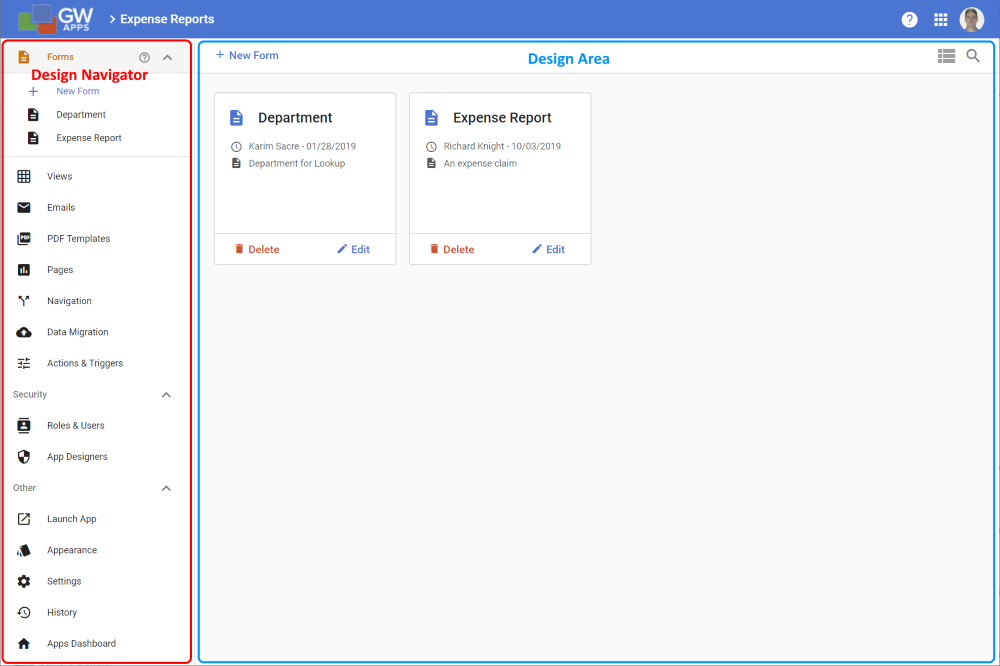 | | |
| --- | --- |
| Design Navigator | The navigator allows you to choose which area of the apps design you want to look at. |
| Design Area | The Design Area is where the details of the chosen design area are displayed. In the example above, Forms was selected from the Design Navigator, so the Design Area shows the two forms from the Expense Reports app. |
Layout of a Form being Edited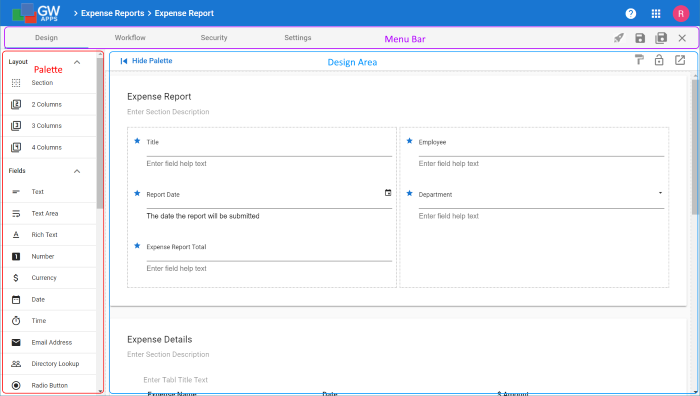 | | |
| --- | --- |
| Palette | The Palette is a list of things that can be added to the Design Area. For example: If you are designing a form it will be fields types and layout columns, if you are working on a page it will be charting widgets and the like, and if you are editing an email template or view it will be a list of the fields on the form you are working with. |
| Design Area | This is where the form, view, email template, page or whatever is displayed so you can work on it. |
| Menu Bar | For forms and views there are too many possible settings and features to fit them all on one page, so the menu bar has tabs that allow you to access these additional pages of settings. It also has the save and close icons. |
Next Steps
Below is a link to an article that covers the main areas of the Designer Navigator:
Application Designer