The PDF Template Editor allows you to create custom PDF report templates with an optional header and footer, and a body with auto-populated record data. These PDF Templates can be triggered during a workflow to create copy (PDF file) of the record, or manually generated from within a view.
To begin creating a template, open the app in Edit Mode and navigate to the PDF Templates section on the left-side navigator. Then select the '+ Create New PDF Template' button, or '+ New PDF Template' on the header bar. Then, choose a name for your template and choose which form to use.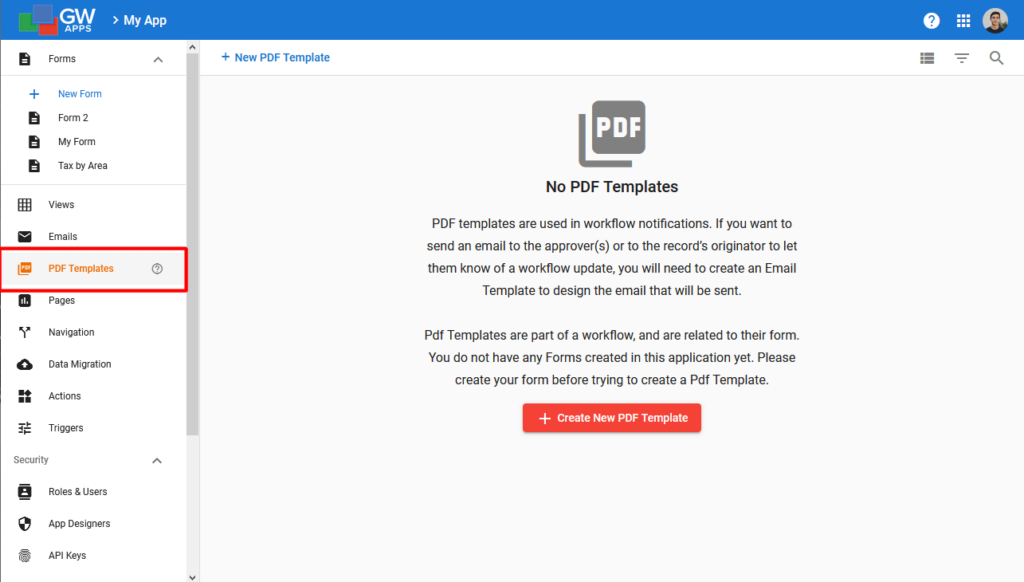 PDF Template Editor
The template editor can be broken down into 5 sections: Template Name(1), Available Fields Pallet(2), Template Layout(3), Template Properties(4), and Preview & Save(5).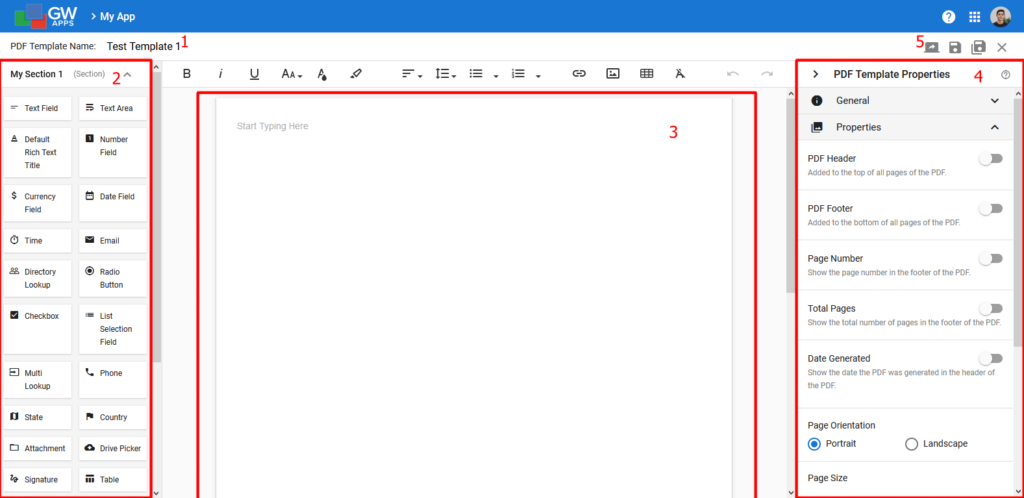 The Template Name can be edited by clicking in this field. It can also be edited in the PDF Template Properties (

4

) under the general section.
The Available Fields Pallet shows all fields currently on your form. Drag-and-drop a field on to your Template Layout to add the field to the layout. You may also use the @ symbol within the Template Layout section to add fields — typing it (@) will display a drop-down of all available fields. You will also find a Page Break option at the bottom of the pallet.
The Template Layout area is where you build your layout. You can add text, format, images, tables, change colors, etc., by using the options above this section.
The Template Properties is where you determine the specifications of your layout. For example, if the layout will have a header and/or footer, if page numbers and/or total pages will display, if the date it was generated should be added, etc. (more on this below).
The Preview & Save area is used to preview and save your layout.
PDF Template Properties
Properties (4) are divided into two sections: General, and Properties. In the General section, you can change the template name and description, as well as the form being referenced.
The Properties section is used to determine the overall layout of your template.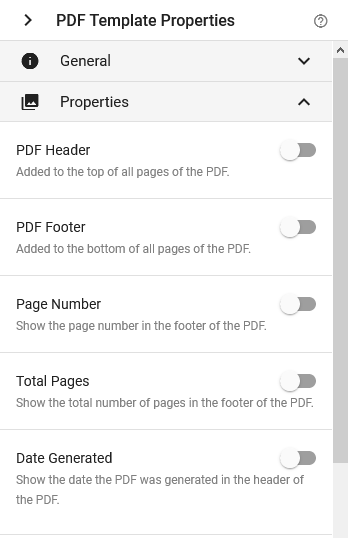 The Header and Footer can be completely customized with text, fields, color, images, etc.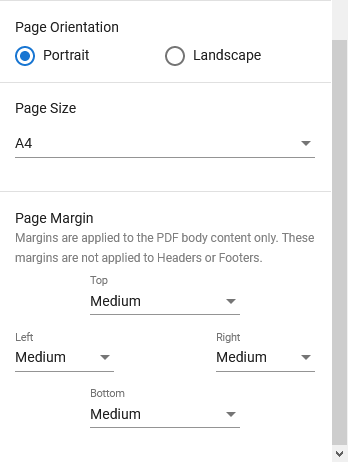 Page Size options include A4 and Letter.
The Page Margin only applies to the body of the template, not the header or footer.
Next Steps
Add your PDF Template to your workflow by assigning it to your action buttons. Learn more here.
Similar to PDFs, you may also create custom Email Templates for your application workflows. Learn how to navigate the Email Template Editor here.
Change the overall layout of your email templates in the Platform Settings Email Layout section.