Shared Roles are global roles for use in any application. Normally, you create a role within an application and then add users there. Shared Roles let you create a role, populate it with users, and then reference that role (with it's users) in any of your applications.

When you first open the 'Share Roles' section, you will see a role called 'All Domain Users'. GW Apps creates this role automatically, and it includes all users with access to the platform (updated automatically). It's not possible to delete this role.
Creating a Shared Role
To create a new role, select the '+ New Shared Role' button on the header bar.
Give the role a name and description (only a name is required), and select 'Create' in the bottom right corner of the window. The Shared Role is created, but is empty until you add users (directions below).
Managing Shared Roles
After creating a new role, select it to open a right-side panel. This is where you can add users to the role, view the list of applications currently using the role, and view basic information about the role.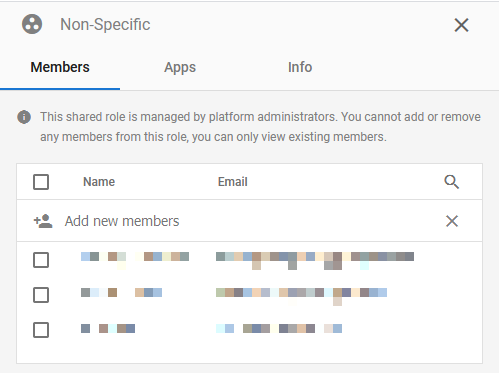 The Members tab is where you manage the role's users.
To add users to the role, begin typing a users name in the 'Add new members' field and a drop-down will appear where you can select the desired user.
To remove users from the role, select the checkbox next to their name(s) and click the trashcan icon (which replaces the magnifying glass icon in the top right).
In the Apps tab, you may unlink the role from apps currently using it by clicking the unlink icon next to the app.

As an alternative to opening the right-side panel, you can access some quick options by hovering your mouse cursor over the role, which will display three icons on the far right.

The

pencil

icon allows you to edit the basic information about the role ('Name' and 'Description').
The '

Users

' icon in the middle lets you add users.
The trashcan icon deletes the role. You will not be able to delete a Shared Role if it has applications linked to it. Instead, you must first unlink all applications.
Importing Shared Roles
Once you've created a Shared Role, you can add the role to an application. Simply open the application in edit mode, navigate to 'Roles & Users' on the left-side navigator, and select '+ Import Shared Role'.