The SLA component displays the SLA history of a record directly on the record, allowing users to see which stages the record has passed through, the time it took to move between stages, and the stage it is currently waiting at.
The default look of the SLA component

SLA: Properties
Setting
Description
Basic Tab / General Settings
Display Name Default Value Field Help Text Required
See General Field Features
Basic Tab / Filters
SLAs to show
Controls the SLAs that will display in this SLA component. All SLAs are selected by default, but you can deselect or select any combination you require.
Columns Tab
Columns
Controls the SLA data columns that will display in this SLA component. The following columns are selected by default:
– SLA Name
– Due Date
– Opened On
– Closed Time
– Duration
– Delayed

These additional columns can also be displayed:
– SLA Status
– Opened Stage
– Closed Stage
– Opened By
– Closed On

Click on the '-' sign to the left of a column to remove it from the displayed columns list. Click and drag columns to the desired order by using the six-dots icon to the right of the column name.
Add Column
A dropdown list of columns not currently being displayed. Select a column and it will be added to the bottom of the columns list.
Advanced Tab / Conditional Visibility – See Conditional Visibility
SLA Column Properties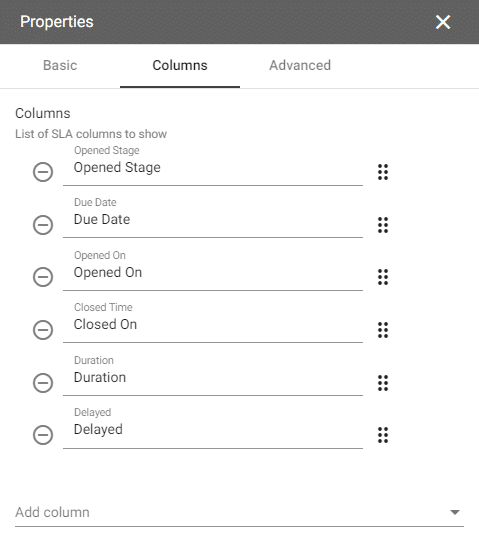 Usage Example
Usage Example

The data in the SLA component is for display only.