Actions define a set of configurations for a type of action. Currently we only support Webhooks.
Actions Overview
Actions & Triggers are a way to automatically take an action related to specific records in a GW Apps application. For example, in a service request application you could create a trigger to send an email to the manager of a service technician for every service request that has been assigned to the tech, is not yet resolved and was assigned three or more days ago. That way, service requests that are not being dealt with in a timely manner will escalate themselves to the service tech's manager.
An App Designer can create and edit actions from the Actions Dashboard. To access the Actions Dashboard:
Edit App > Actions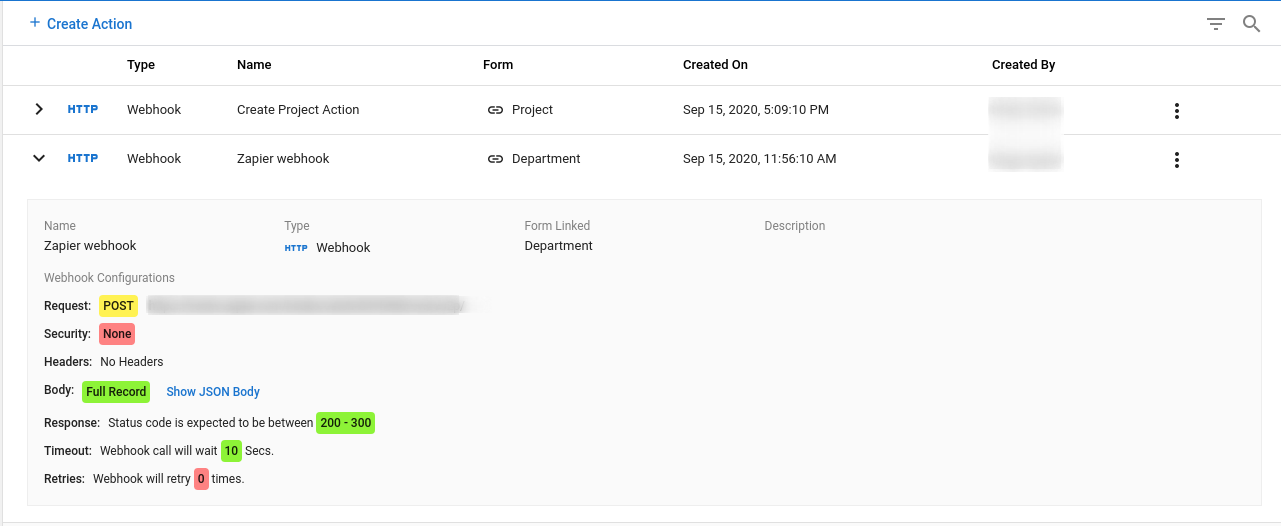 Actions Dashboard
The Actions Dashboard shows all available actions for the current application, displayed as a list. An App Designer can create and update them from here. Each action has it's own row menu (three vertical dots on the far right side) which lets you work with the action.
Actions Dashboard

Each action row has the following options:
| | |
| --- | --- |
| Item | Description |
| Test Webhook | A request is sent to the webhook |
| Edit | Opens the action to be edited. (See Creating a new Action, below, for details of the Action Form.) |
| Remove | Deletes the action from the application. |
Creating a new Action (Create Record)
To create a new action, click on the + Create New Action button at the top of the dashboard. You will then be presented with the Action Form:
Action Form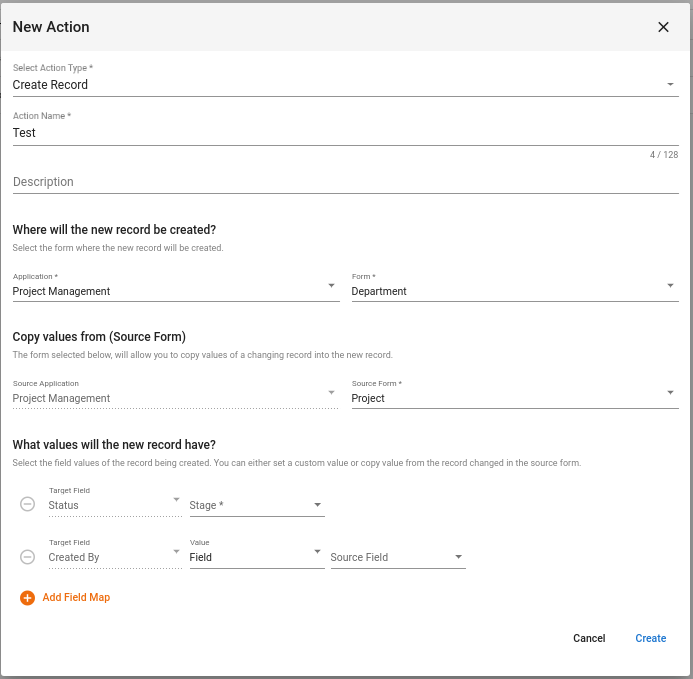 | | |
| --- | --- |
| Item | Description |
| Action Type | Select the action type 'Create Record' |
| Action Name | Name of the action to execute |
| Description | Brief description of the action. [Optional] |
| Application | Select the application where the new record will be created |
| Form | Select the form where the new record will be created |
| Source Application | Select the source application |
| Source Form | Select the form containing the fields that will be included in the new record creation |
| Target Field | The field that we will map in the destination form |
| Value | Option to choose as field from the source form or a custom value |
| Source Field | The source field or custom value that will be added to the destination field |
| Add field Map | Adds a new field to map |
| Cancel | Cancel Create Action |
| Create | Creates the Action |
Creating a new Action (Update Record)
To create a new action, click on the + Create New Action button at the top of the dashboard. You will then be presented with the Action Form:
Action Form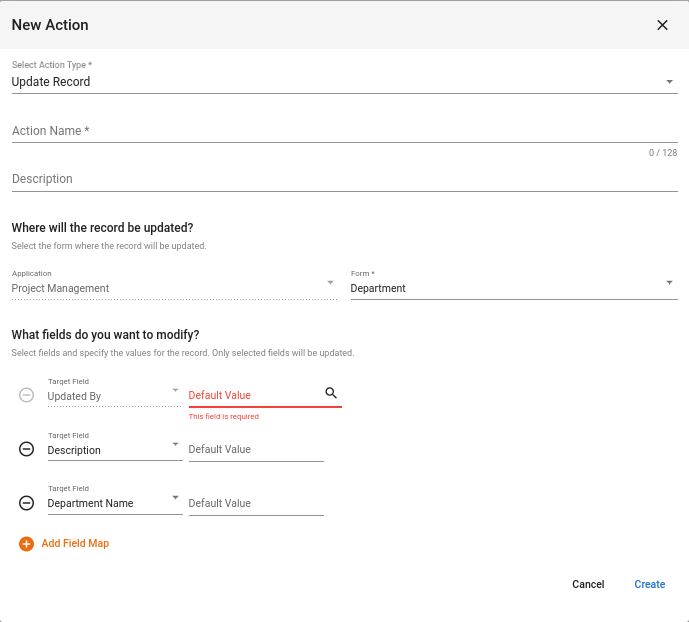 | | |
| --- | --- |
| Item | Description |
| Action Type | Select the action type 'Update Record' |
| Action Name | Name of the action to execute |
| Description | Brief description of the action. [Optional] |
| Application | Select the application where the new record will be updated |
| Form | Select the form where the new record will be updated |
| Target Field | The field that we will map in the destination form |
| Default Value | The custom value that is going to be updated |
| Add field Map | Adds a new field to map |
| Cancel | Cancel Create Action |
| Create | Creates the Action |
Creating a new Action (Webhook)
To create a new action, click on the + Create New Action button at the top of the dashboard. You will then be presented with the Action Form: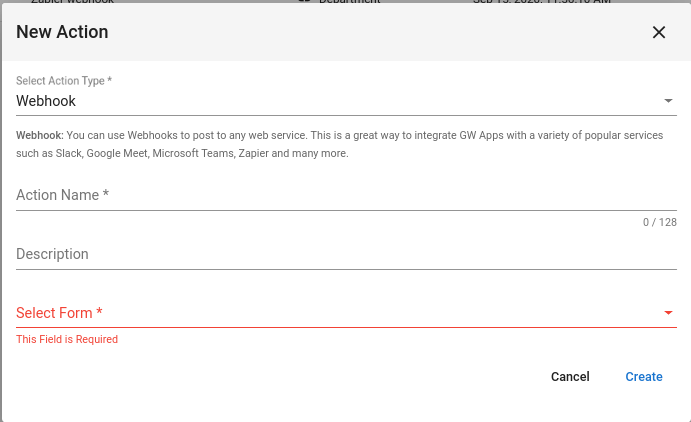 | | |
| --- | --- |
| Item | Description |
| Action Type | Select the action type 'Web hook' |
| Action Name | Name of the action to execute |
| Description | Brief description of the action. [Optional] |
| Select Form | Select the form that the webhook will receive information from. |
| Cancel | Cancel Create Action |
| Create | Creates the Action |
Once the new webhook action has been created it can be edited to include more details about its behavior and the webhook information
| | |
| --- | --- |
| Item | Description |
| Name | Gvien name of the webhook action |
| Description | Brief description of the action. [Optional] |
| Request Details | |
| Method | Webhook REST method to execute |
| Protocol | Protocol supported by the webhook (HTTP or HTTPS) |
| Webhook URL | URL of the webhook that will receive data from GW Apps |
| Security | |
| Authentication type | If the webhook requires authentication you can pass it in this field with a supported authentication option |
| Header Details | You can additional headers supported or required by the webhook |
| Request Body | |
| Request Body | You can choose what type of Body to include in your request: Full Record, Partial Record or Advanced |
| Request Content Type | Supported Content Type is application/json |
| Response Details | |
| Accepted Status Codes | A range of accepted status codes or a single status code |
| Request Timeout | In case anything goes wrong with the request it will time out after the given amount of seconds |
| Retries | If you need to set a retry parameter you can select options from this dropdown |
| Cancel | Cancel the changes |
| Save | Save the changes |