Email templates are used to create workflow notifications. If you want to send an email as part of a workflow, for example to the approver(s) or to the record's originator to let them know of a workflow update, you will need to create an Email Template to design the email that will be sent.
An App Designer can access the Email Templates Dashboard, where they can create and edit App Builder forms, by clicking on the Email Templates button from the left side navigator.

Email Templates Dashboard
The email templates dashboard shows all available email templates for the current application, displayed as tiles. An App Designer can create and update them from here. Double clicking on a template's tile will open the form in the Email Template Editor.
Email Templates Dashboard
Each email template tile also has the following buttons:
Item
Description
Info Panel – Displays the right side information panel, with summary information about the currently selected email template.
Delete – Deletes the email template from the application.
Edit – Opens the email template in the

Email Template Editor
Creating a new Email Template
To create a new form, click on the + New Email Template button. You will then be presented with the New Email Template dialog:
New Email Template Dialog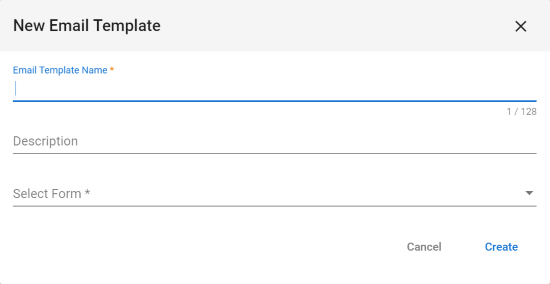 | | |
| --- | --- |
| Item | Description |
| Email Template Name | Enter the name of the new email template. |
| Description | If desired, enter a description for the email template to help clarify its purpose. |
| Select Form | Select the form whose workflow this email will be part of. This is required so that the email editor can lookup fields from the form to include in the Subject and Body of the email. |
| | Click to close the dialog and cancel the new email template creation. |
| | Click to close the dialog, create the new email template, and be taken to the email template designer with the new email template loaded. |